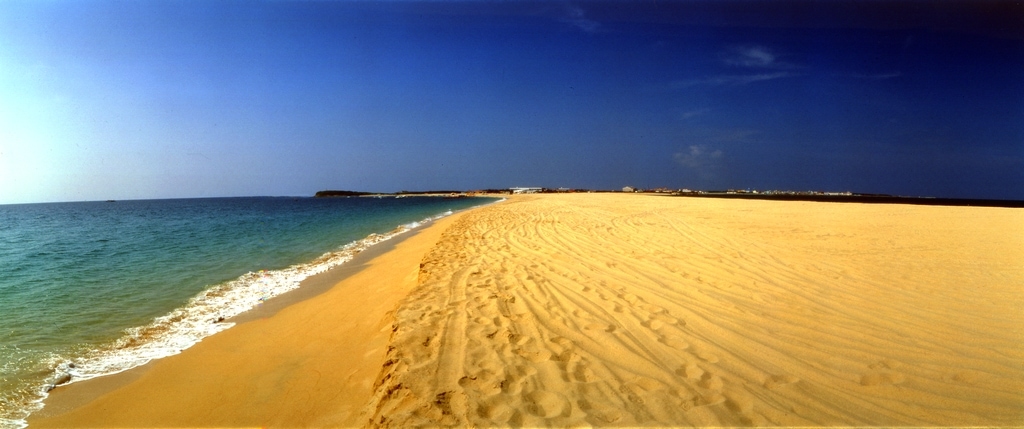 Yet again, summer is here and temperatures are starting to rise in Taiwan. Though it's an island, Taiwan doesn't offer as many beaches as other Asian destinations such as Thailand or the wonderful archipelago of the Philippines. A large part of the island's coast is rocky, so is not that common to find sand beaches in Taiwan.
Plus, here there isn't much tradition of going to the beach to sunbathe or swim as we usually do (not only in the West, but also in other Asian countries). The fact that it's not a super popular activity means that not all sand beaches in Taiwan are set up for recreational use.
Even so, Taiwan offers several options for those who don't want to leave without dipping their toes in the Pacific Ocean or the Chinese Seas.
Baishawan
This beach is located on Taiwan's northern coast. To access it from Taipei, you must take the metro to Danshui, and from there catch a bus heading north. The bus ride is about 40 minutes. The beach isn't very developed, so it's best to bring your own water and food.
Fulong
Fulong is a cluster of two beaches, even more developed than Baishawan. In fact, one of the two beaches belongs to a resort and you have to pay to enter. Near the beach, there are restaurants, hostels and convenience stores. To find more information and photos from Fulong beach, you can visit this post that Laura wrote on her blog a while ago. Fulong is accessible by train from Taipei.
Honeymoon Bay in Dashi
This beach is called Mi Yue Wan, or Honeymoon Beach, and is accessible by train from the Dashi station in Yilan. From there, you have to walk about 10 minutes to the beach. The area also has hostels and convenience stores.
Kenting
And from northern Taiwan, we'll go straight to the southernmost point of the island. Kenting is one of the places with the most beach culture in Taiwan. Kenting has several sand beaches, ideal for swimming and sunbathing, easily accessible from the town. Besides beaches, Kenting also boasts of a natural park that is well worth visiting. The coast of Kenting is one of the best places on the whole island for diving or snorkeling. If you're a diving enthusiast, take a glimpse at this guide of the best places to dive in Taiwan and make the most of your trip to explore the seafloor of this wild island.
It takes a few hours to get to Kenting from Taipei, so it's a destination best planned as a weekend or 3-day trip. The quickest and most popular option is to travel via THSR (Taiwan's high-speed train) to the Zuoying station in Kaoshiung. From there, buses leave every hour to Kenting, and there are lots of taxis waiting at the train station, also offering to make the trip. The bus ride from Zuoying is about three hours (in addition to the two hours in train from Taipei). In taxi, the trip is about a half hour shorter. If you can share a taxi, it's not a bad option to save some time, and lower the price significantly.
The East Coast
The East Coast is home to some of the most beautiful hidden beaches in Taiwan. There are small creeks along the Pacific coast, usually hidden between riffs or next to small wharfs. These are not easy to find, but some are becoming quite popular, as the one in the picture below, in Su'ao.
Islands
Besides the main island, there are several islands on either side of the main island, which also belong to Taiwan. Penghu, Green Island and Turtle Island are good options for a multi-day beach getaway, though access is more complicated than on the main island, and it means taking a flight or a ferry to get to them.
Things to keep in mind when going to a beach in Taiwan
Swimming with your clothes on is normal. Traditionally in Chinese culture, brown skin is synonymous with hard field labor, which is why white skin is one of the most widespread beauty standards. That's why you'll see many Taiwanese (especially Taiwanese women) on the beach in summertime covered head-to-toe, in or out of the water.
Never without their dogs. Unlike European beaches in the summer, it's very typical to see Taiwanese people walking along the beach with their pets which, of course, enjoy kicking up sand and jumping into the water like never before.
In August, most of the beaches in Taiwan are… empty! Or almost. It turns out that in the lunar calendar, the time from around the end of July to mid- August is traditionally known as the month of ghosts. Tradition states that during that month, spirits come out of the sea to visit the world of the living, so being near beaches during this time could be potentially dangerous. That's why many beaches in Taiwan are practically deserted, and it's one of the best times to take a dip in the sea (despite the risk of ghosts).
Another detail that I've noticed is the pleasure Taiwanese people take in burying somebody in the sand. It's a win-win: the buried one takes a nap and the rest have fun.
I hope that this guide helps you enjoy Taiwan's beach offerings and spend a great day taking a dip. You can also take a look to our guide of things to do in Taipei in Summer to get some more ideas.