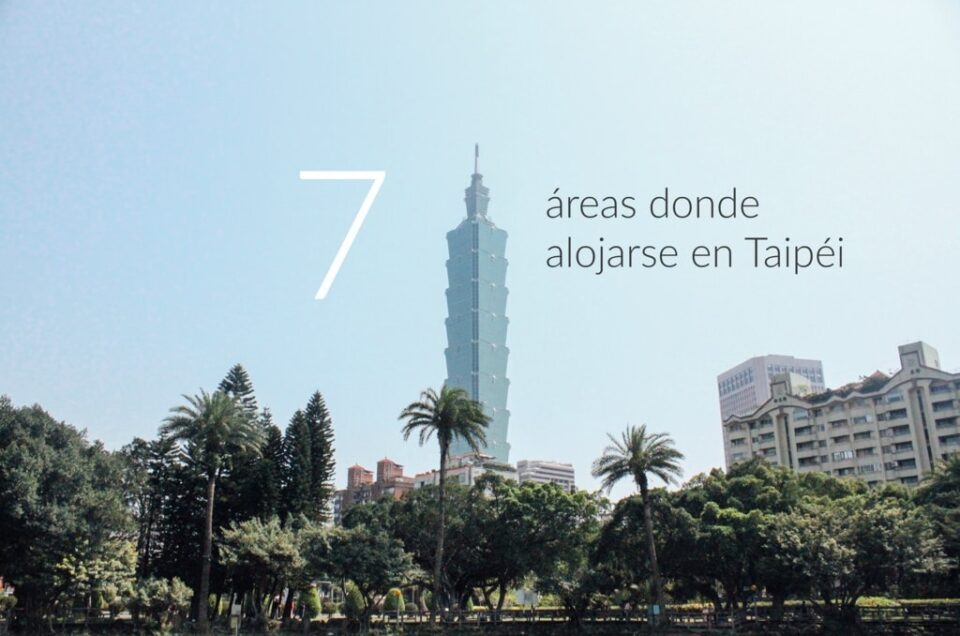 Taiwan has become one of East Asia's up-and-coming tourist destinations. The spectacular island landscapes and the ever-vibrant city of Taipei are selling points for the growing number of Asian and Western tourists, and the amount of travelers visiting the island never stops increasing year after year.
The city of Taipei has adapted rapidly to receive this growing number of tourists, who aren't only Mandarin speakers looking for Western-style or traditional lodging to spend a few days in the city. Here are some of the most popular and convenient areas to stay in Taipei.
XINYI: THE BUSINESS AND NIGHTLIFE DISTRICT
The Xinyi district is one of the newest in the city, which has expanded eastward over the decades. Today, the Xinyi district is the city's main business district and is home to numerous leisure options. Large luxury hotel chains, such as W or Le Meridién, are located in this area, which also includes tons of nightlife venues and shopping centers. Zara, H&M, Pull&Bear, all the big fashion chains have stores here. In this district, you'll find the city's most emblematic building, Taipei 101. Although it's one of the city's central points, you can easily walk or bike from Xinyi to Elephant Mountain, on the southern border of the district, where you can escape from the hustle and bustle and enjoy breathtaking views of the city.
Nearest metro stations: Taipei City Hall and Taipei 101/World Trade Center.
SHIDA – GONGGUAN: STUDENTS AND CAFES
This is actually two neighboring areas, a few minutes away on foot, on the border of the huge Daan district. At the center of each area, you'll find two of the country's most important universities, Shida (the area's namesake) and Taida, in Gongguan. That's why both areas are popular with local and exchange students. Both areas have buzzing nightlife. Specifically, the Shida market is one of most popular in the city and boasts of countless fashion and accessory shops, very popular with local young people. Gongguan has followed Shida's footsteps and now has a large number of small cafes where students spend afternoons working. Both areas are located a few minutes from the Xindian River park, ideal for a stroll or bike ride.
Nearest metro stations: Taipower Building and Gongguan
XIMENDING – TAIPEI MAIN STATION: NEON, POP CULTURE AND BACKPACKERS
Ximending, or Ximen, is Taipei's version of Tokyo's Shibuya neighborhood. This is one of the most popular districts among young people in the city, and where local pop culture is at its finest. Fashion and comic book shops, an avenue full of movie theaters, 15-story karaoke and several concert halls make this old Japanese entertainment district into a lasting recreational hotspot in the city. Ximen is the ideal area for those looking to experience the Asian city under neon lights. In this district, you'll also find the city's most popular gay area, on the terraces beside the iconic Red House Theater, a theater that goes back to the era of Japanese occupation.
Taipei Main Station, a few minutes' walk from Ximen, is the city's main transportation hub, which brings together several metro, train, high speed and bus lines. Because of this, it has a large number of restaurants and hotels that serve the millions of passengers passing through every year.
These two areas have most of the city's hostels for backpackers, so they're the best option to stay in Taipei if you're traveling on a tight budget.
Nearest metro stations: Ximen and Taipei Main Station
DAAN – DONGMEN: LET'S EAT, EAT, EAT
Daan is the most populated district in the city. Daan extends through a large area of the city and, although it's primarily residential, there are several high-activity hotspots. The vicinity of Daan Park, specifically near Yongkang Street, is a popular destination among city visitors and a good option for finding lodging. In Dongmen, you'll find the original location of Xiaolong Bao's popular chain Din Tai Fung, very easy to identify from the throngs of tourists hovering at the door waiting their turn to enter the restaurant. Without a doubt, the wait is worth it.
Nearest metro stations: Daan Park and Dongmen
SHILIN: NEVER-ENDING NIGHTMARKET
Within city limits, although farther from downtown, you'll find Shilin. Shilin is a popular residential area, known for its lively night market, including numerous food stands, but also shops for clothing, accessories and all kinds of gadgets. Most urban buses depart from Shilin, which connect Taipei to the Yangming Shan Mountain, an ideal place for hiking in nature. In Shilin, you'll also find the city's most popular museum, the National Palace Museum, which has an extraordinary collection of Chinese art, which was moved from Beijing during the fleeing nationalist government after the Chinese Civil War. Shilin will also be home to the Taipei Performing Arts Center.
Nearest metro stations: Jiantan and Shilin.
BEITOU: CULTURE AND HOT SPRINGS
The Beitou district is famous for its hot springs. Located north of Taipei, on the foothills of the Yangming Shan Mountain, this district is perfect for connecting with nature, without leaving the city or sacrificing the convenience of having a metro station nearby. In this area, there are endless hoteles which uniquely offer hot spring baths, both public and private, in their rooms. The lovely district library is also popular.
Nearest metro stations: Xin Beitou
YANGMINGSHAN: A NATURE GETAWAY
Although this isn't one of the most convenient options for lodging in Taipei, from a transportation standpoint, this option is unbeatable if you're looking for one or two days of relief from the hustle and bustle of the city. Yangmingshan is the mountain located just north of Taipei. It's accessible by car or several bus lines that depart from Jiantan Station, and it takes about 30-60 minutes to get there, depending on which part of the mountain you're visiting. Lodging on the mountain does not include hotels, but rather it's typical to find traditional houses, or spas, which offer rooms surrounded by nature, with large hot spring baths and spa services. The surroundings are unmatchable, and you'll feel like you're in the middle of the wild, only an hour from the city center. The area also has some good restaurants and tea shops, such as VVG Hideaway, from the popular VVG group, and is the ideal place to begin any of the mountain's walking paths.
Nearest metro stations: There is no metro station near Yangming Shan, and the best way to get there via public transit is by taking the metro to Jiantan and boarding a connecting bus from the station to the mountain.
Where to stay in Taipei
Taipei offers countless lodging options, from luxury hotels, traditional Japanese houses, rooms in shared apartments, or even capsule hotels. Although many of these lodging options are only found on the local pages, checking out a rental site or looking for a room in a shared apartment on Airbnb, gives you a good idea of the wide range of offerings and prices available for lodging in Taipei.